As seen on Home Builder's Digest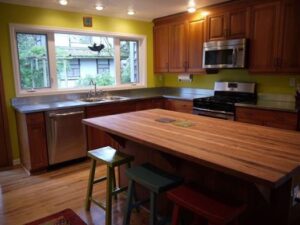 Voted one of the best remodeling contractors in Portland.
Green Light Construction, named for its commitment to using Eco-friendly building materials, was founded by Maxwell Rush, who graduated from the University of Oregon with a degree in fine and applied art and a minor in chemistry. His artistic awareness and scientific understanding of the world complement his many years of hands-on experience in the building industry. For over 10 years, he has provided detail-oriented and creative building services to more than 155 Portland homes.
In 2009, Green Light Construction was selected for the coveted project of restoring the cupola at the top of the historic Pioneer Square Courthouse, a property listed on the National Register of Historic Places and considered a National Historic Landmark. Green Light believes the kitchen plays a central role in daily life: it is the place where you start your day, visit with loved ones, dream and strategize for future plans, and nourish your family.
Featured on its website is a Northeast Portland kitchen remodel that includes concrete countertops, sustainable cork floor, brand-new kitchen cabinets, and custom tile backsplash. Green Light relocated the backdoor and removed an unused chimney in order to create fresh, open space. Another featured remodel shows the transformation of a 1906 farmhouse kitchen into a warm, inviting kitchen and laundry room, with new windows, cabinets, and neutral tile counters.
More information can be found here at the Home Builder's Digest website.