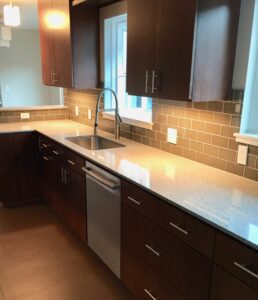 Concordia is a neighborhood in the Northeast section of Portland, Oregon, named after Concordia University, which is located within it. Most of the Alberta Street Arts District is in Concordia. Alberta Street is the heart of an arts, restaurant, and shopping district approximately 20 blocks long. More about the history of Concordia can be found here.
Green Light Construction has completed a lot of projects in the Concordia neighborhood.
The project on top shows a Modern Contemporary Kitchen Remodel for one of your Concordia neighbors featuring a clean look with glass subway tile and new flooring. This remodeled kitchen unique because the glass was recycled, an ecological choice while also providing durability. The homeowners liked the look and then benefited from the Eco side too.
We have worked with people who want to stay in the neighborhood and want to expand or improve their existing house. With education, arts, shopping and entertainment being the focus of the area, we understand why people want to stay in this part of town and enjoy every aspect of their home.